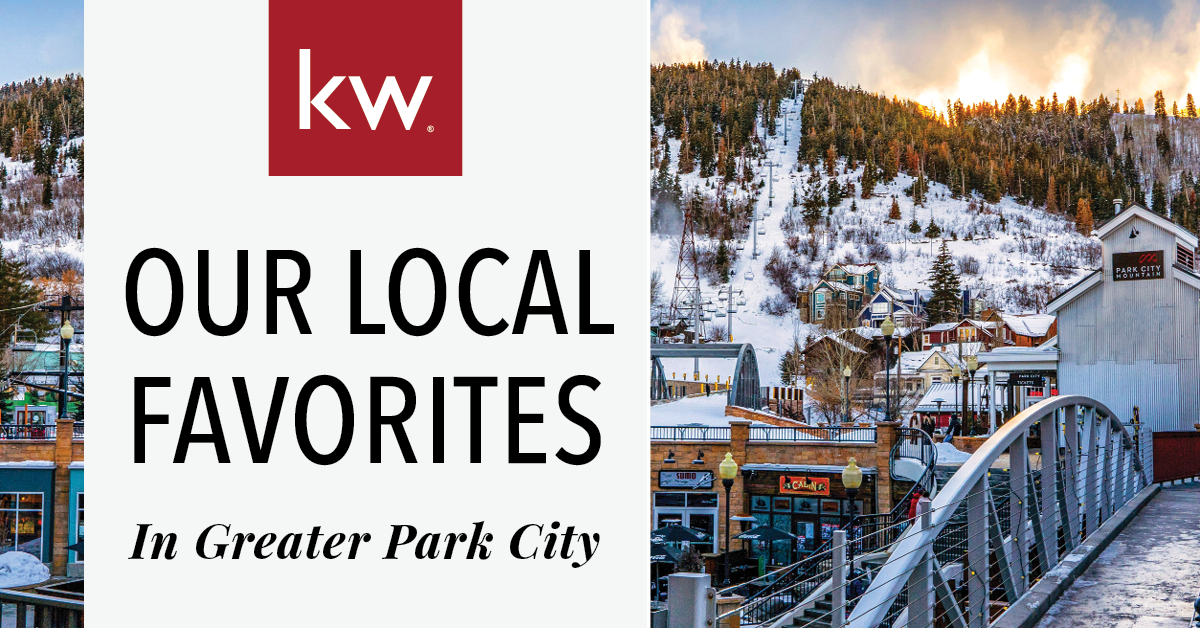 Park City is famous for the obvious – three renowned resorts in one town, world-class mountain biking and great hiking! In this issue we hope to introduce you to some of the other places that make Park City so special to us.

FAVORITE OLD TOWN FEATURE
The Town Lift & Skiers Bridge: Driving up Park Ave on the way to Main Street, and seeing the ski lift turning overhead and skiers gliding across the bridge is always a special sight. The ability to ski right into Old Town for lunch or an Après Ski cocktail or to catch the lift right from Main Street is something we all cherish.

FAVORITE WHISKY STORE
High West on Park Avenue: While the High West Saloon in Old Town is a popular spot, we love that their shop is open daily from 11:00 am – 9:00 pm. You can get limited editions of great whiskeys in addition to branded apparel and swag. And yes, you can buy whiskey on Sundays! Additionally, you can now place online orders for their award-winning whiskeys to be delivered to your non-Utah residence, so you don't have to schlep bottles home.

FAVORITE TRAILS
All 400 Miles of Them! Park City has been recognized by the International Mountain Biking Association (IMBA) as the first Gold Level Ride Center in the world, with "Epic" ride status designated for the Mid Mountain Trail, Armstrong and Pinecone trail connection, and the Wasatch Crest Trail. But what we love as locals is the non-motorized paved trail that runs from Old Town all the way to Kimball and into the Basin's neighborhoods. We can hop on a bike or walk about anywhere we like.

FAVORITE MUSEUM
Park City Historic Museum: Located at 528 Main Street, the Park City Museum offers interactive exhibits, artifacts, and the city's original basement jail. It is fascinating to learn how we went from the boom of the silver mining era, to bust, to the introduction of skiing. It is hard to believe that Park City almost became a ghost town in the 1960s! Spend an hour or half a day at this wonderful museum.

FAVORITE STROLLS
Main Street Galleries, Shops, & Restaurants: We love that our historic architectural character from the silver mining days has been so carefully protected in the boutiques, galleries, and fine dining options that are offered on Main Street, all flanked by ski trails and views of the surrounding mountains.

FAVORITE DOG PARK
Library Field Dog Park: We sure love our dogs in this town. There's no doubt about that. No trip down Park Ave is complete without a slight detour to drive around the Library Dog Field, on the north side of the Park City Library. This off-leash park is a popular Old Town gathering spot where dogs can sniff and chase each other or catch frisbees and balls while their owners socialize. Humans are often seen sipping coffee or cocoa from the Lucky Ones Coffee shop located right inside the library along the park's edge. Thoughtful locals have added chairs and dog bowls, and there is just something so satisfying about witnessing the dogs happily at play, with not a care in the world. Bonus: it's a great sledding spot for kids in the winter!

FAVORITE THEATRE
Eccles Center Theater: This intimate theater is connected to Park City High School and was made possible by the philanthropic Eccles family, who have done so much to help further the arts in Park City and throughout Utah. Thanks to the Park City Institute (PCI), we get to enjoy world-class entertainment in this venue, including award-winning theater, Ballet West, a compelling speaker series, modern dance, and popular concerts. As stated in their Mission, "PCI champions education by creating experiential classroom learning opportunities through which Park City School District students directly engage, collaborate, and create with the speakers, musicians, and performers we host."

FAVORITE NATURE CENTER
Swaner Nature Preserve & EcoCenter: You may have noticed the lack of rooftops between Redstone at Kimball Junction and Ranch Place. Thanks to the generosity of the Swaner family, who donated all the land for the preserve and ongoing stewardship by Utah State University, the Swaner Preserve encompasses a 1,200-acre wildlife refuge, a state-of-the-art environmental education facility, a 100-acre farm, and ten miles of trails. Their webcams showing wildlife and sandhill cranes are a nice diversion when you need a little break from the office routine. You can turn up the volume to enjoy the unique trumpeting call of these magnificent birds or elks bugling.

FAVORITE OLYMPIC VESTIGE
One-of-a-Kind Olympic Park: The visual of the Nordic ski jumps as you enter Park City sends a clear message to visitors – this is a serious snow sports town. Built as part of the infrastructure for the 2002 Winter Olympic Games, the Olympic Park is a vibrant amenity within our community. It includes the ski jumps, bobsled and luge track, freestyle jumping facilities, and ski team racing runs. The Olympic Park is also home to the wonderful Alf Engen Museum, where you can learn more about the Olympic legacy that is embraced by our community. In the summer, the Park doesn't lose a step, offering zip line and ropes courses, as well as the opportunity to watch freestyle skiers practice flips and twists before landing in a special aerated pool. We also love that during the COVID shut down, the Park City Film series hosted drive-in movies there, a tradition we hope continues this summer.

FAVORITE PEOPLE/DOG PARK
Willow Creek Park : Located off Old Ranch Road on Split Rail Lane in the Basin, this 17.5-acre park includes three playing fields, four pickleball/tennis courts, volleyball, an exercise par course, and two playgrounds. For our furry friends, there's a fabulous off-leash dog park with a pond and diving dock. Bonus: winter ice skating! It's a wonderful neighborhood gathering spot, which also provides access to the Willow Creek trailhead. This trailhead offers a connection to many of the Basin's spectacular trails, including the East Highway 224 Connector Trail and the new Osguthorpe Nordic skiing area.
Also, be sure to check out our Favorites in Heber, Kamas, Midway, etc.