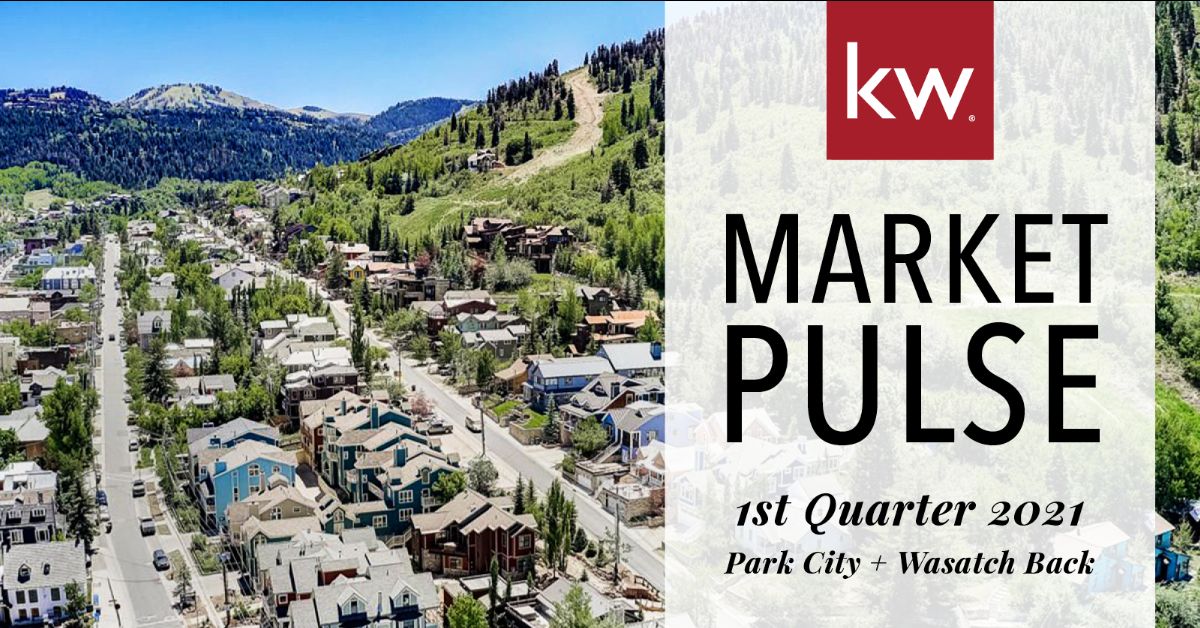 A STEADY RISE
The remarkable rise in the number of homes sold and the increase in median and average sale prices that we experienced in the latter half of 2020 continued unabated through the first quarter of 2021. Fears that the market might be overheated were quelled by consistent financial indicators pointing to a sustained bull market in housing.
Optimism about the housing market is high nationwide. While we did see small gains in inventory coming into 2021, pending contracts far outstripped new listings coming to market. The Park City Multiple Listing Service recorded record low inventories in March and April, and the numbers continue to decline during a spring market when one would expect more homes offered for sale, not fewer. The number of "off market" transactions has increased significantly as well.
CHANGES IN QUANTITY SOLD & PRICE
Entire Market Area – End of 1st Quarter 2021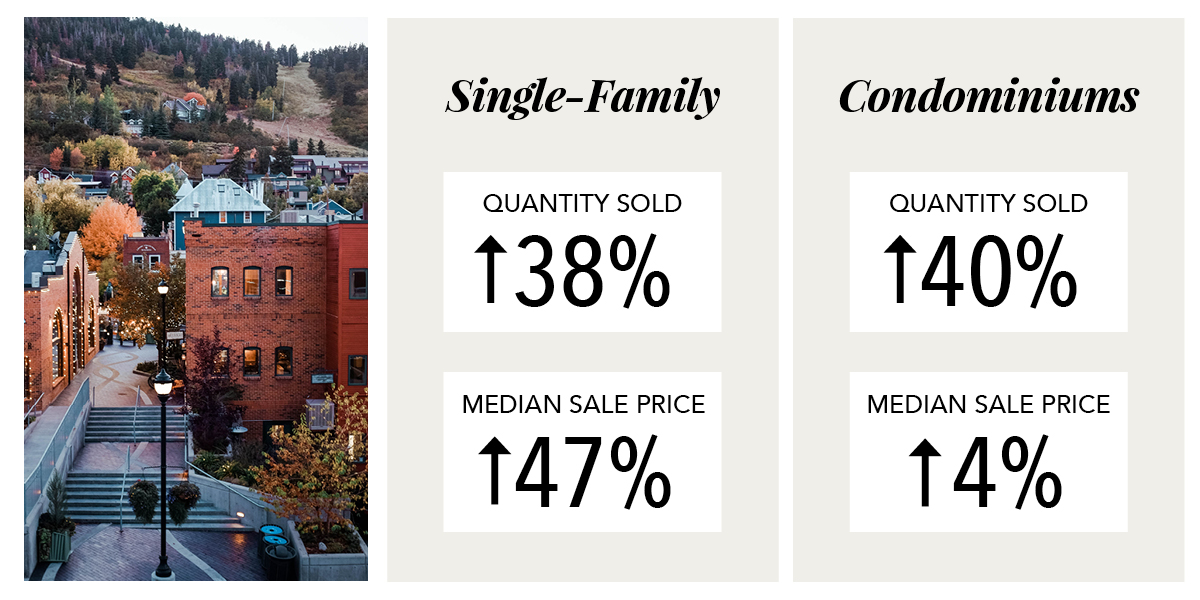 Some neighborhoods in our area performed better than others during the first quarter of 2021, but there were no negative results to report. Comparing the 12-month period ending March 31, 2021 to the same period in 2020:
New listings for the first quarter of 2021 totaled 786, up 17% from 673 in 2020.

Pending sales grew even faster than new listings, with 1,070 purchase contracts signed in Q1 of 2021, more than double the number (517) in Q1-2020. While more homes were coming to market during 2021, they were absorbed almost immediately, leading to an overall shortage of inventory.

Closed sales were 150% higher in Q1-2021, with 643 contracts settled versus 432 in Q1-2020.

With pending sales outpacing new listings, the available inventory was dramatically reduced. The first quarter of 2021closed with just 651 residential and land properties available for sale, equaling only one third of the inventory (1,909) available in 2020.
. . . . . . . . . . . . . . . . . .
MARKET OVERVIEW
12 Month Rolling: April – March 2020 vs April – March 2019
How did our local real estate market fare through twelve full months of a pandemic? See below for the total year-long results, reported on a rolling year-over-year basis for the period ending March 31, 2021, unless otherwise noted.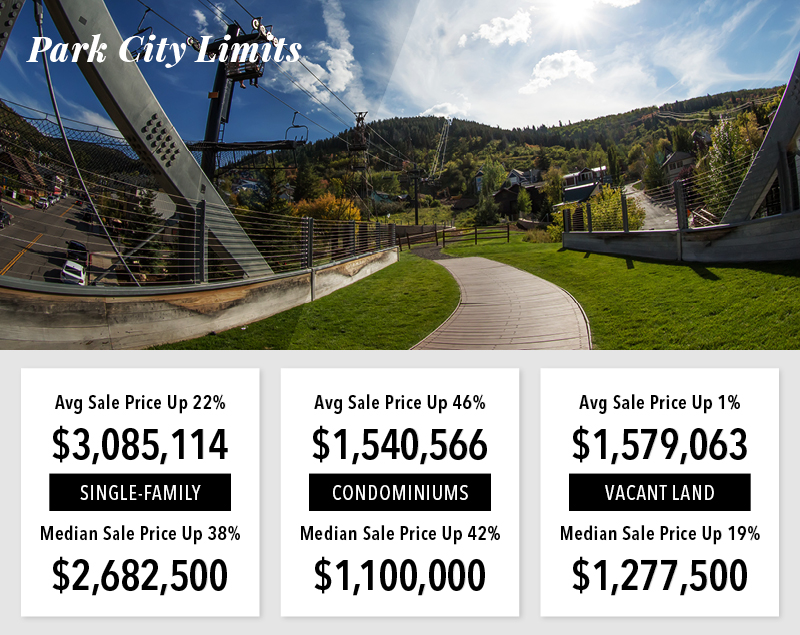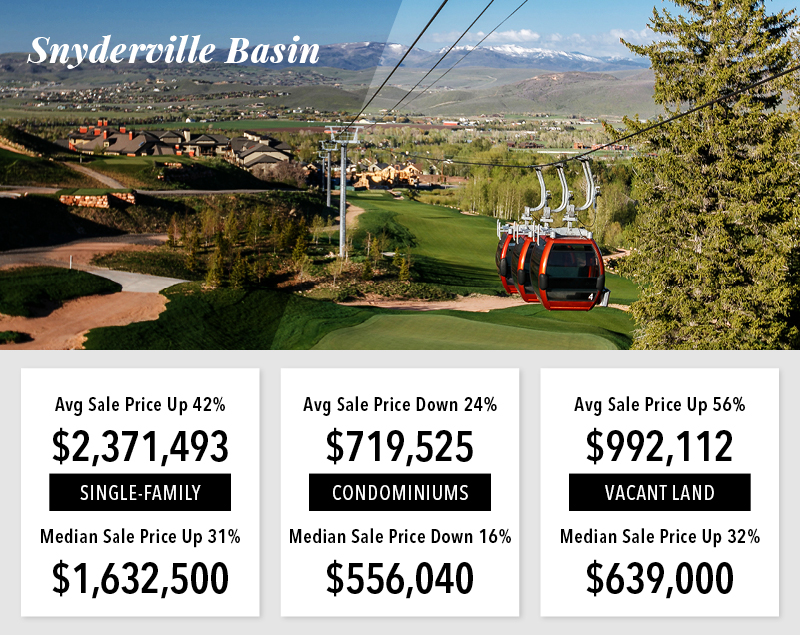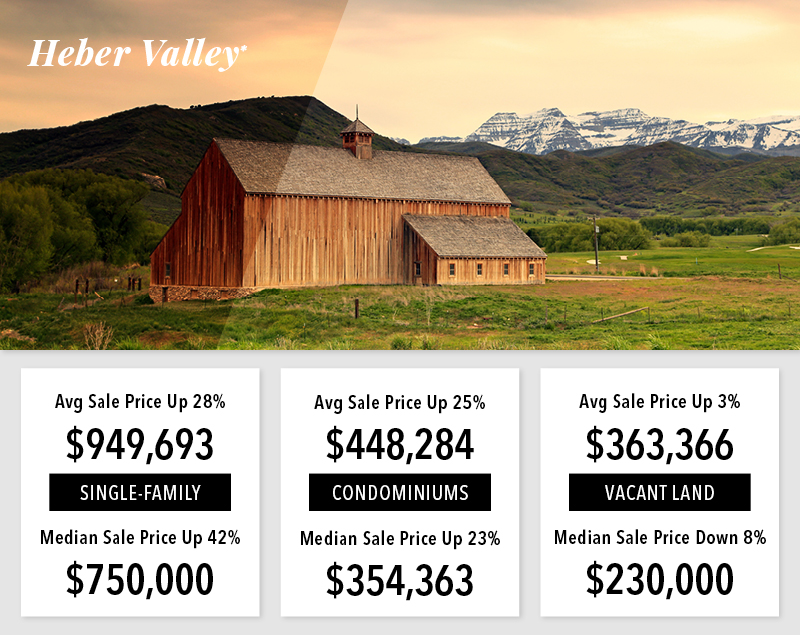 Not all sold data in the Heber Valley is included in the Park City Multiple Listing Service data; please call for more specific details.
. . . . . . . . . . . . . . . . . .
MORTGAGE RATES STEADY & LOW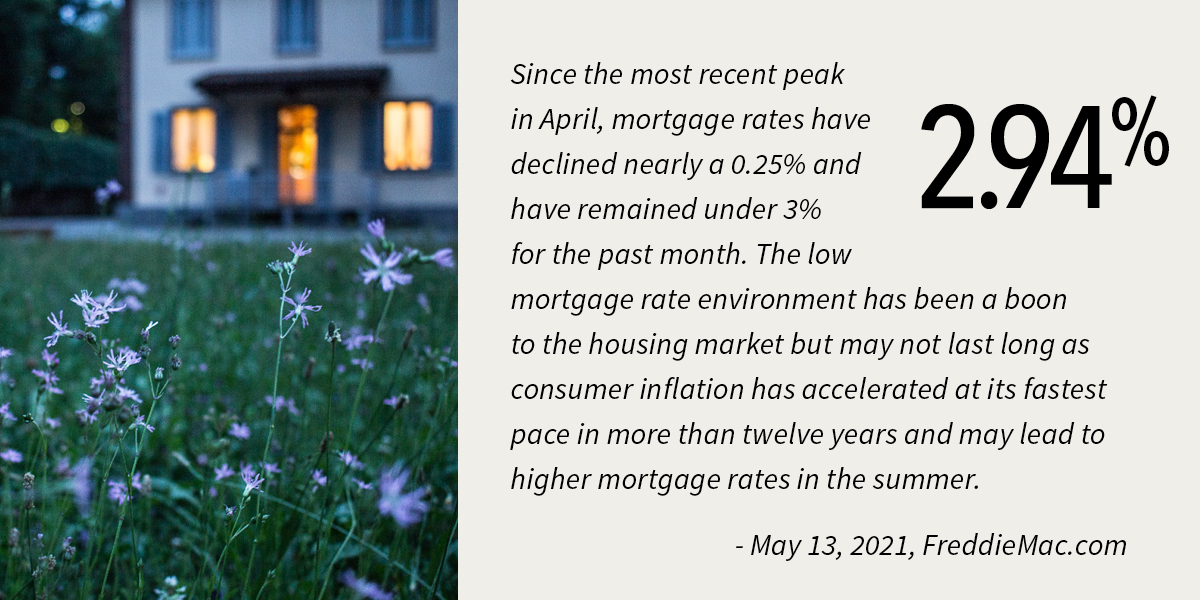 . . . . . . . . . . . . . . . . . .
NEIGHBORHOOD HIGHLIGHTS
Statistics drawn on rolling year-over-year basis for the period ending March 31, 2021, unless otherwise noted.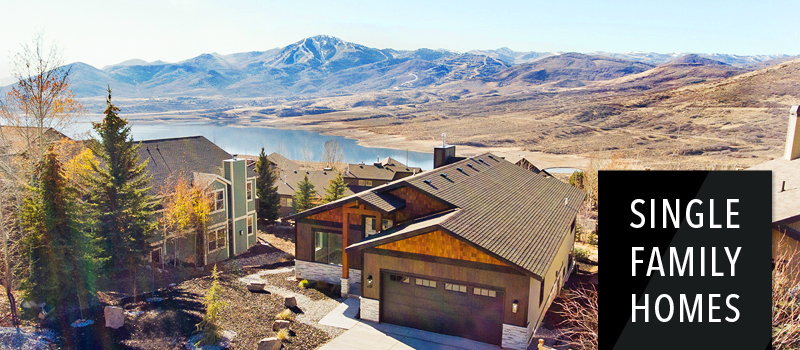 Park City Limits
Within Park City Limits, total transactions were up 38% over 2020 to 324. Sales volume was up to $999 million, representing a 122% increase year-over-year. The median price of a single-family home across the city rose 38% to $2.7 million. In the popular Old Town area, sales volume and transactions both doubled, and the median price rose 11% over 2020 to $2.1 million. The Aerie neighborhood took the grand prize for greatest increase in median price, nearly doubling over the year earlier to $3.3 million.
Snyderville Basin
Snyderville experienced a spike in sales volume (up 113%), with a median price increase of 31% to $1.63 million.


Promontory + Glenwild

Promontory led the neighborhoods in the number of transactions (153, up 113%) and dollar volume ($435M, up 165%). Glenwild saw the biggest price increase, with the median in that neighborhood passing $3.5M, up 56% year over year.


Jordanelle

Some of the most active hotspots were south and east of the Park City metro area. Jordanelle saw vigorous activity (sales units up 59%) that pushed the sales volume to nearly double 2020's total to $256 million, up from $131 million the prior year. Prices were particularly robust in the South Jordanelle area, where the median rose 19% to $2.8 million.


Heber Valley

Heber Valley saw a modest 8% rise in the number of transactions with 39% higher sales volume, propelled by a median price that jumped 42% to $750,000.


Other Noteworthy Areas

Other neighborhoods that experienced two-fold increases in year-over-year units sold or sales volume included Lower Deer Valley, Canyons Village, Deer Mountain, Thanes Canyon, Old Ranch Road, Glenwild, Silver Creek Estates, and Heber East.

More detailed information for most neighborhoods can be found here:

Single-Family Stats by Neighborhood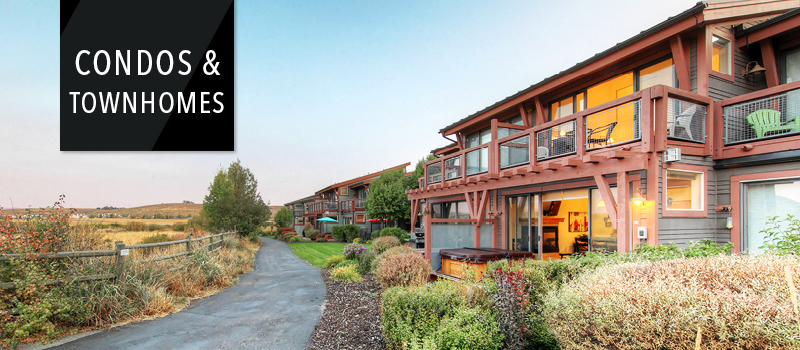 Park City Limits
The condominium market in Old Town Park City continued to be solid with sales up 37%, with a comparable gain in median price of 13% to $675,000. Empire Pass was the standout neighborhood performer, with sales nearly quadrupling and driving the median price up 31% to $2.8 million. For the second quarter in a row, Prospector transactions dropped (10%), but sales volume grew (19%) as the median price popped 21% to $211,000.

Snyderville Basin
In the Snyderville area, Canyons Village saw its sales volume drop despite 13% more transactions, largely the result of closings of lower priced new inventory at Yotelpad, which resulted in a lowering of the median sale price to $544,000.

Wasatch County
In Wasatch County, Jordanelle Park, Deer Mountain, Tuhaye, Hideout, and Red Ledges all saw gains of 50% or more in total transactions, with Red Ledges leading price gains, up 33% to $875,000.


Other Noteworthy Areas
The standout neighborhood outside of Park City Limits was Sun Peak/Bear Hollow, where sales more than doubled, and the median price jumped almost 50% from $515,000 to $751,000.

More detailed information for most neighborhoods can be found here:

Condo + Townhome Stats by Neighborhood
. . . . . . . . . . . . . . . . . .
COST OF EXISTING HOMES vs NEW
For the Period of June 1st 2020 thru April 30th 2021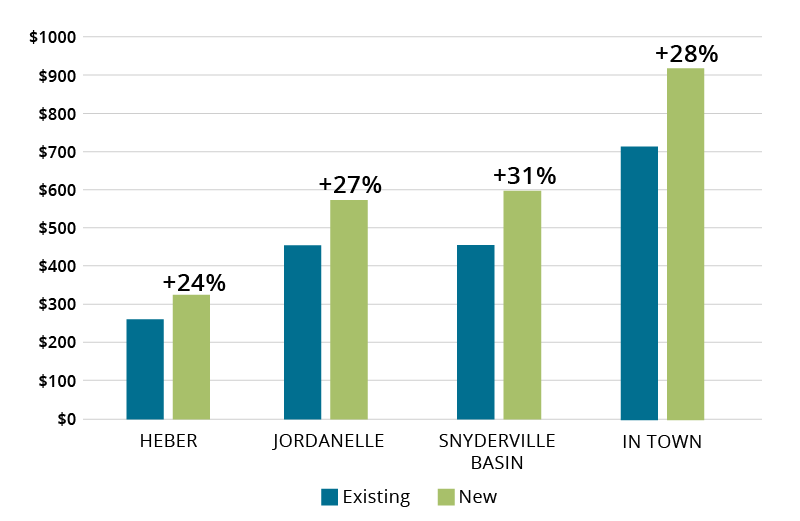 With the drastic uptick in lot sales this past year, our clients have often asked us to provide data regarding the pricing differential of existing homes versus new construction. We looked at the past year in our four primary market segments, noticing a common thread of new construction properties costing 25-30% more depending on the neighborhood and prevailing land costs.
. . . . . . . . . . . . . . . . . .
TIME ON MARKET RELATIVE TO PRICE
If you are contemplating listing and selling your property, consider the balance between your pricing and absorption timelines. The data below weighs the time on market against the median price. It clearly demonstrates that those properties priced at or below the median are generally sold at a faster pace and in some neighborhoods, a significantly higher pace. Take note of the drastic reductions in time on market, demonstrating how quickly properties are being absorbed.
Absorption Rate: the number of months it would take to sell the currently listed properties on the market factoring in median list price.
PARK CITY LIMITS
(Areas 1-9) Includes
Old Town, Thaynes Canyon, Lower Deer Valley Resort, Deer Crest, Upper Deer Valley Resort, Empire Pass, Aerie, Prospector, and Park Meadows.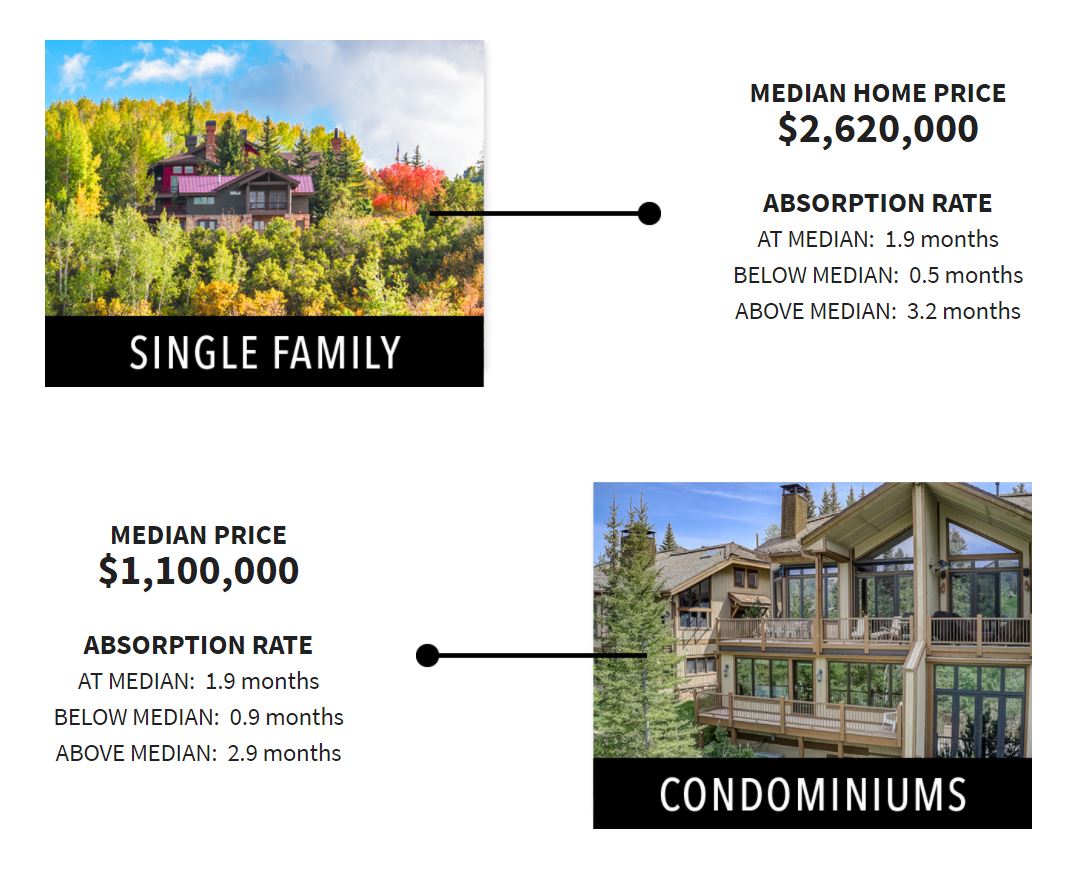 SNYDERVILLE BASIN & JORDANELLE
(Areas 10-28) Includes
The Canyons, Sun Peak/Bear Hollow, Silver Springs, Old Ranch Road, Kimball, Pinebrook, Summit Park, Jeremy Ranch, Glenwild/Silver Creek, Trailside Park, Promontory, Quinn's Junction, Deer Mountain, Tuhaye/Hideout, Jordanelle, and South Jordanelle.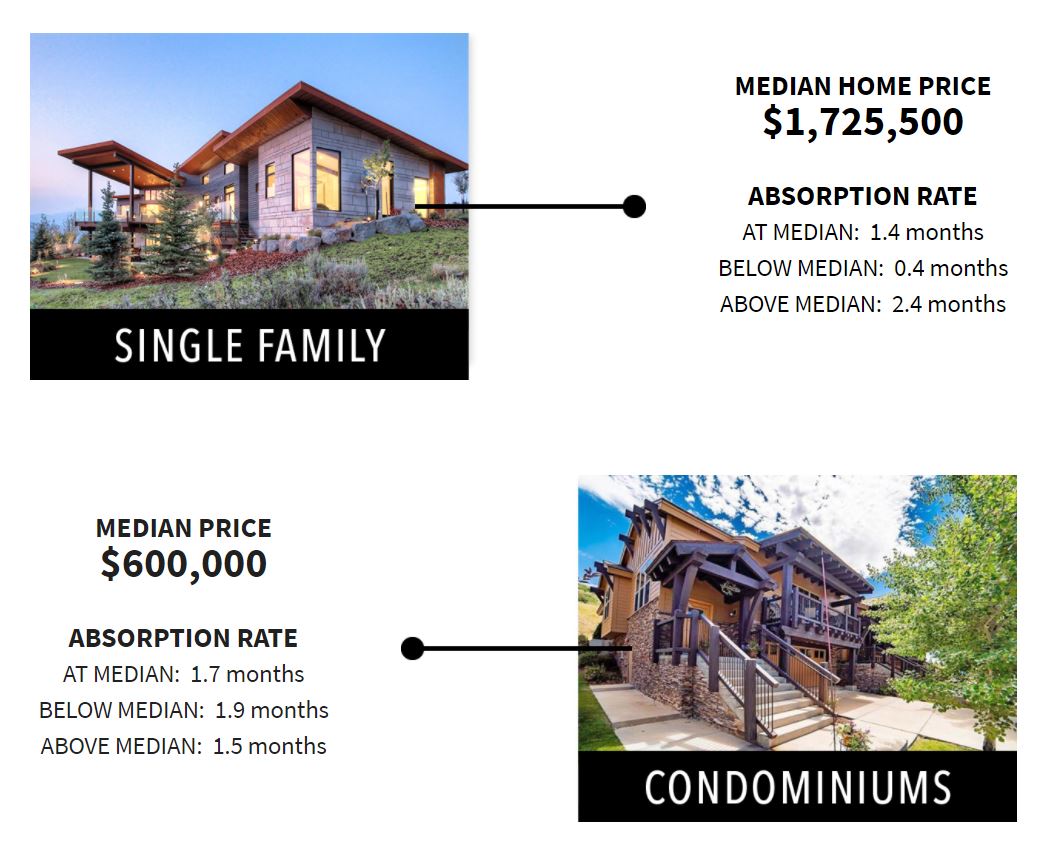 HEBER VALLEY

. . . . . . . . . . . . . . . . . .
PRICE APPRECIATION BY STATE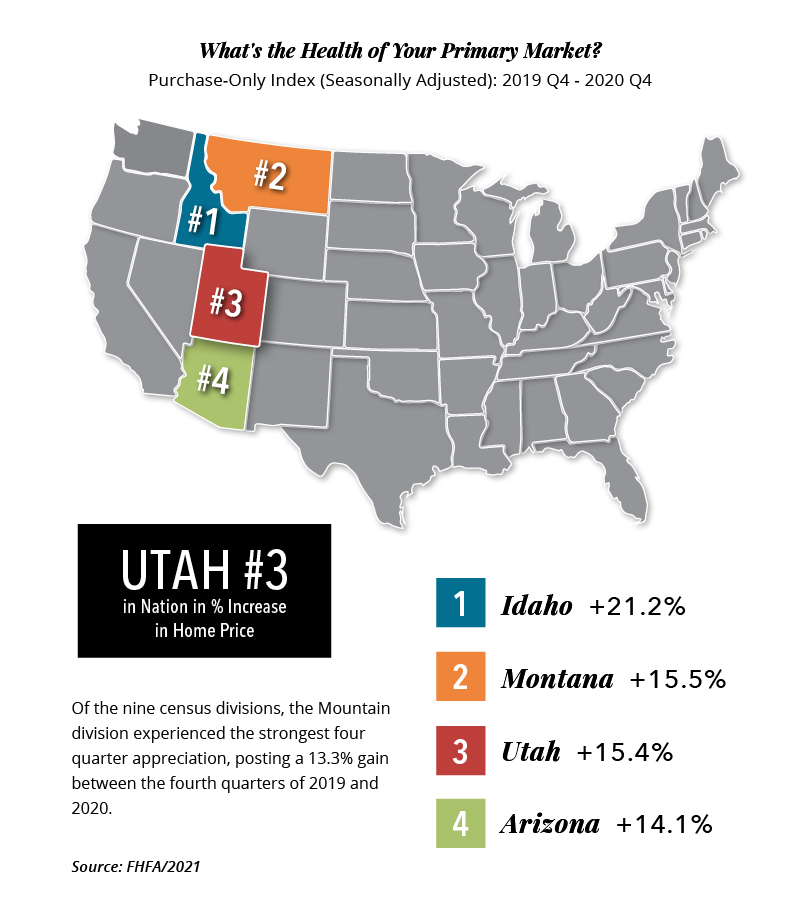 . . . . . . . . . . . . . . . . . .
THE SEASON AHEAD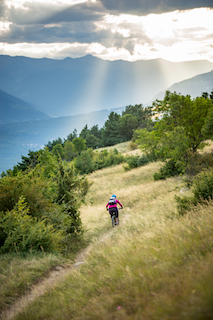 There is no argument the COVID-19 pandemic hurt our local tourism industry. Fortunately, the ski resorts had a very good season; not a record, but restaurants and local shops were able to open and stay in business. Slopes were busy, and restaurants pivoted and changed their table structure to accommodate social distancing. Now that spring is here, we are seeing a jump in outdoor dining, with restaurants getting creative in maintaining social distances by installing "igloos" to isolate diners. All in all, the local market is faring much better than many places elsewhere in the country.
OTHER MARKET FACTORS
Part of the low inventory conundrum can be attributed to a lack of new housing starts, which can in turn be blamed at least partially on the skyrocketing cost of lumber, which has jumped 250% in just the past year. Lumber manufacturers curtailed output at the start of the pandemic thinking demand would drop, and just the opposite happened.

Construction was hit hard by the pandemic, losing over 1 million jobs during 2020. Workers are coming back but more slowly than demand would dictate. To recruit new construction workers, builders have had to increase wages, which in turn leads to higher housing costs.

More than half of all Americans have now had at least one vaccination injection, and by July, projections indicate that 75% of our populations will have been vaccinated.

Our low inventory problem should ease somewhat as those sellers who were uncomfortable listing their homes due to concerns around having unvaccinated visitors in their homes opt to bring their properties to market.
. . . . . . . . . . . . . . . . . .
As these statistics demonstrate, our markets are very robust, resulting in a challenging environment for both buyers and sellers. On the seller side, many properties are seeing multiple offers with unique deal terms that must be carefully evaluated. Buyers need to be more prepared than ever to move quickly, with most paying cash to beat the competition or being fully prequalified for a mortgage prior to submitting offers. We keep our finger on the pulse of our market to offer you the highest level of service. Let's discuss your goals for this spring/summer season now.