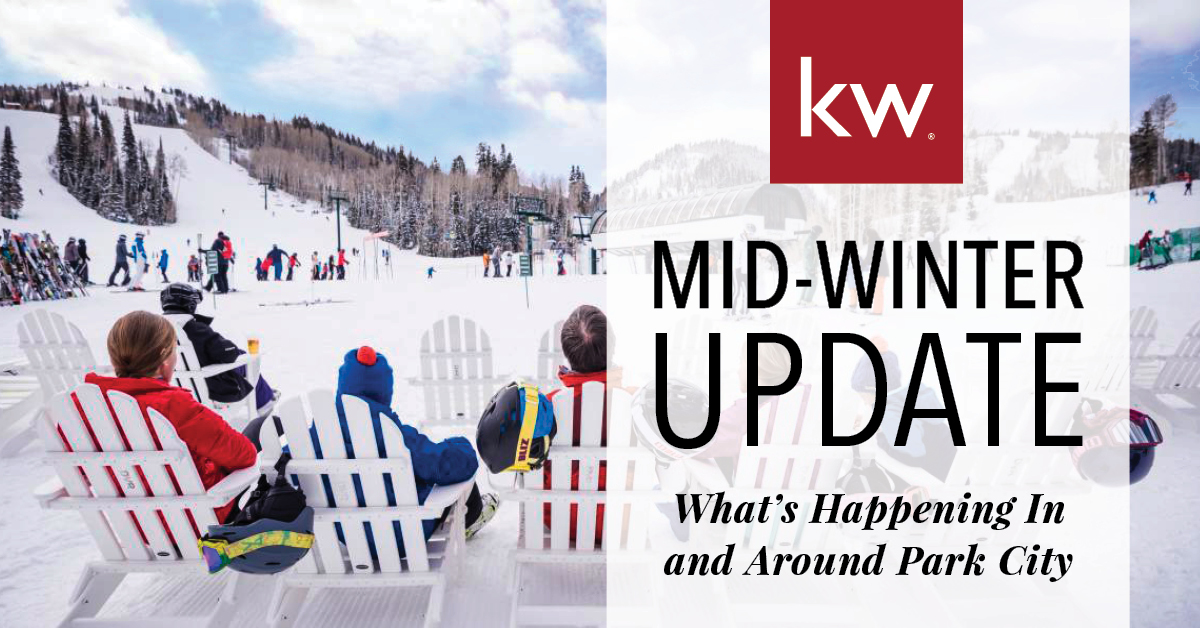 Mother Nature stopped being stingy with the snowfall this season just in time for the Presidents' Day holiday celebrations, and she did not hold back! A five-day storm cycle brought three feet or more of snow to our mountains. In Little Cottonwood Canyon, the storm system caused an unprecedented 60-hour "Interlodge," a condition that occurs when avalanche danger within the canyons makes it dangerous for people to travel between buildings. It effectively forced all the residents and guests staying within the canyon to stay indoors. They received 93″ of snow in 7 days, and yes, snorkels were needed on that first "country club" powder day after opening. This is also great for our snowpack, as most of Northern Utah is now at 75% or better of normal. There are even several more storm cycles on the horizon to keep us moving up.

As February comes to a close, March brings longer daylight and more moderate temperatures, along with plenty of bluebird days. If you have been slow to get out on the slopes this season, conditions are perfect for skiing, riding, cross country skiing, skate skiing, and snowshoeing. There's also still plenty to keep you entertained, even with COVID-related cutbacks in events.
. . . . . . . . . . . .

VIRTUAL SUNDANCEBREAKS RECORDS
Although it didn't break any Park City visitation records, this year's Sundance Film Festival was definitely one of a kind. Reaching 600,000 audience views was a 168% increase from last year, and viewers logged on from 120 countries and territories, as well as all 50 states.

Read more here.
DEER VALLEY HOSTS FISWORLD CUP FOR 23rd YEAR!
Deer Valley Resort hosted the 2021 FIS Freestyle International World Cup during the first week of February, marking 23 consecutive years of hosting this event! Although crowds were not present this year, athletes from all over the world attended the event.

View the results here.
PEDESTRIAN DAYS GETS VOTE OF SUPPORT
Following the successful debut of "pedestrian" days on Main Street during Sundays this past summer, the Historic Park City Alliance recently voted unanimously in favor of extending the program this coming summer. The Park Record published more info on the vote, which can be viewed here.
SPECIAL THANKS TO CHARLIE STURGIS!
After 11 years at the helm of the Mountain Trails Foundation, Charlie Sturgis announced that he will be stepping down this coming June. Charlie was instrumental in making our local trails network an incredible success during his tenure. He will be missed!
Make a donation or find out more about the Mountain Trails Foundation here.
. . . . . . . . . . . .

UTAH OLYMPIC PARKANTI-GALA
February 27 | Utah Olympic Park
The UOP is hosting the first-ever Winter Olympic themed Anti-Gala at the site of their new mountain expansion. It's planned to be a competitive, entertaining outdoor party with a friendly competition consisting of alpine and snowboard races, biathlon, and Nordic jumping. More info here.
MOUNTAIN TOWN MUSIC
Various Venues
Check out live music every Thursday in March (no show March 4th) at the Corner Store Pub & Grill in Park City.

Mud Puddle
Lash Larue
The Eric Heideman Band

Full schedule here!
2021 VIRTUAL WINTER ARTS SHOWCASE
Now thru February 28
The Winter Arts Showcase features 35+ local artists selling their creative endeavors including paintings, photographs, books, jewelry, ceramics, fabric, textiles, and sculpture on the createpc.org online platform. Patrons can buy unique art directly from artists online.

More info here.
WINTER STREAMING SERIES
The Best of Ballet West
February 26
Garrett Smith's Facades
March 2
Director's Pointe, George Balanchine's Diamonds
March 5
George Balanchine's Diamonds

More info here.
LIBRARY EVENTS
The Park City Library has fun virtual activities almost every weekday. Join activities and find more info here.

Mon 3 – 4pm | Baby and Me
Tues 11am – 12pm | Virtual Storytime
Wed 10am-5pm | Crafternoons to Go
Wed 11am-12pm | Music & Movement
Thurs 11am – 12pm | Virtual Storytime
FIS NORTH AMERICA CUP US REVOLUTION TOUR
March 4 – 5 | Woodward Park City
Woodward will be hosting big air and slopestyle events at the upcoming U.S. Revolution Tour. This event awards the top 13-19 year old athletes an invite to compete in the U.S. Grand Prix, Junior Worlds, USASA Nationals, and participate in Project Gold camps.

More info here.
PARK CITY FILM SERIES
Virtual Film Series 2021
ParkCityFilm.org
Park City Film is a nonprofit organization presenting the best of independent feature, documentary, world, and local cinema. Our mission is to create community through film.
ANOTHER ROUND | Thru February 28
76 DAYS | Thru February 28
COLLECTIVE | Thru February 28
M.C. ESCHER: JOURNEY TO INFINITY | Thru March 1
A GLITCH IN THE MATRIX | Thru March 1
TWO OF US | Thru March 8
RAMS | Thru March 22
STRAY | March 5 – March 29
UTAH OPERA'S LIGHT ON THE HORIZON

Streaming Through March 14th
In the midst of challenge, it is the hope for a better future that unites us as a community. We look forward to the promise of these better days with highlights from the worlds of opera and musical theatre that weave together a story of darkness turning towards light.

More info here.
. . . . . . . . . . . .

The snow's been good, and we hope you've been hitting the slopes. But there are other ways to enjoy the snow. Don't let winter slip by without trying one of them!
TRY OUT A FAT BIKE
You don't have to go south to get back on the bike. Try out some of Park City's pristine fat biking trails. You can rent bikes at White Pine Touring, Storm Cycles, or Jans.
CROSS COUNTRY SKIING
Get horizontal with your skis! Cross Country skiing is a great way to exercise during the winter. Check out the many Nordic trails in Park City here.
COLOR PARK CITY
Get crafty and celebrate Park City with these fun, local coloring pages and activities!

Find them here.
MOST WISHLISTEDAIRBNBS BY STATE
While many people have been postponing vacations this year, it's still safe to make future plans! Check out the most wish-listed stay in each state.

See the list here.
SNOWSHOEING
If you love hiking in the summer, why not try it in the winter? Snowshoeing gives you access to trails and views you wouldn't normally see in the winter months. Learn more about where to snowshoe around Park city here.
. . . . . . . . . . . .

PARK CITY ACTIVE LISTING INVENTORY

We finished 2020 with fewer than half the active listings at the same time in 2019. We can only expect the number of available listings to continue to drop even more before the usual seasonal recovery going into spring. We are hopeful of an uptick in listing inventory once we're done skiing for the year.

Year to date, the Park City Multiple Listing Service has listed 44 more homes than last year at this time. During that same period, more than twice as many contracts have been written (595 vs 285), and there have been 40% more closings (337 vs 240) than those that occurred during the same six-week period last year. The market is hot for sellers and challenging for buyers, as multiple offer situations are the norm.
139-YR-OLD SAN FRANCISCO VICTORIAN MOVED 1/4 MILE
On February 21st, a 139-year-old Victorian house was placed on trailers and squeezed through San Francisco's streets to its new address six blocks away. The San Francisco Historical Society said it was the first time a Victorian had been moved in 50 years, and hundreds of bystanders followed the journey.

Watch the video here.
HOW TO HELP TEXANS RECOVER FROM THE WINTER DISASTER
If you'd like to assist Texans whose homes have been damaged by the severe winter weather they received mid-month, here's a list of great organizations where you can donate.

How to Help Texans Right Now
THE SKINNIEST HOME IN ENGLAND IS AVAILABLE FOR $1.3M
This unique, slender home is on the market. Some worry that they would feel compressed in a 6′ wide house, but counter-intuitively, this is a space that works in much the way a luxury yacht does. 2 bedrooms, 1 bath, and 1,034 square feet.

Tour the home.
. . . . . . . . . . . .
With daylight savings time on the horizon, we look forward to savoring the longer days and milder temperatures as we come into the gentler, second half of ski season. As your thoughts turn to spring, if you are considering putting your property on the market, please reach out so we can guide you through the process and advise on staging priorities. This pandemic has altered the seasonality of our market's behavior, which may allow you to accelerate or modify your goals.