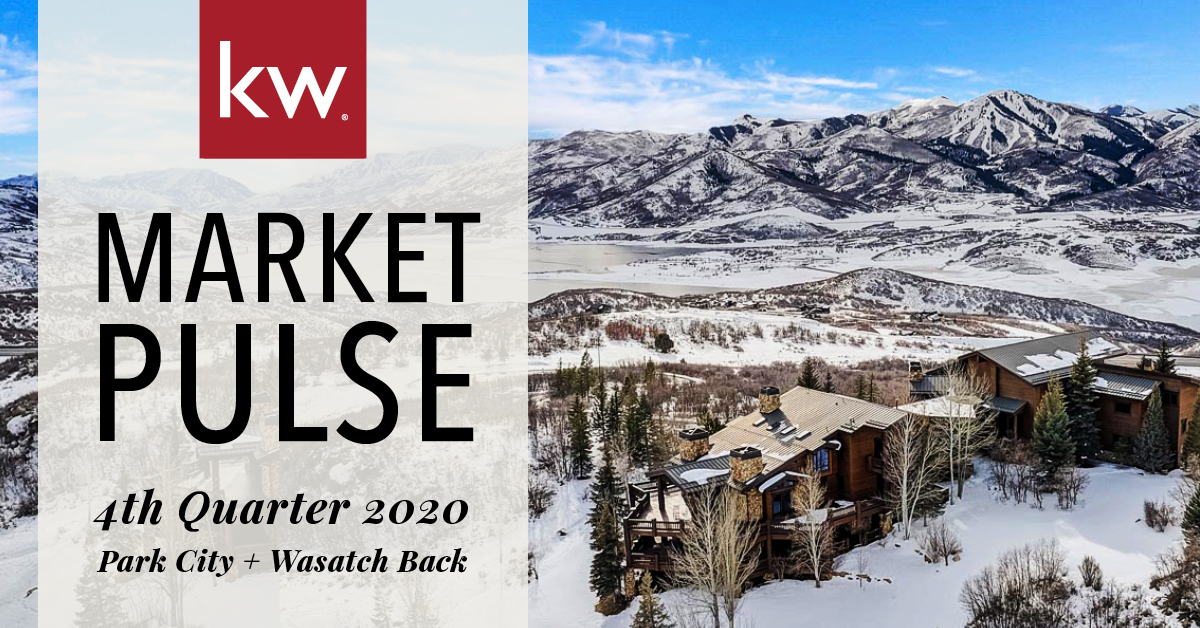 Record Setting 2020
Although COVID disrupted many aspects of life during 2020, our local real estate market came out of the year in extraordinary shape. The market weathered a near complete shutdown last spring, but it has, for the moment, emerged to a new normal. Open houses have returned – just don't forget to bring your masks and sanitizer!
The real estate slump that was predicted back in March failed to materialize. On the contrary, the year-end numbers from the Park City Multiple Listing Service (PCMLS) show that the market improved at an incredible rate. A brief dip was observed in March, April, and May. However, by Memorial Day weekend the buyers were back, and the market didn't just recover; it set records for sales and transaction volume by the end of the year. Demand for homes in our market area grew exponentially, as many chose to move to the mountains to work from home remotely and even home-school. By the third quarter, pending contracts far outpaced new listings coming to market. This high demand fueled record low inventories in August, and the supply continued to dwindle through the end of the year. With few homes available to meet the surge in buyer interest, the predicted rise in sale prices was inevitable.
Changes in Quantity Sold & Price
Entire Market Area 12 Month Rolling: Jan-Dec 2020 / Jan-Dec 2019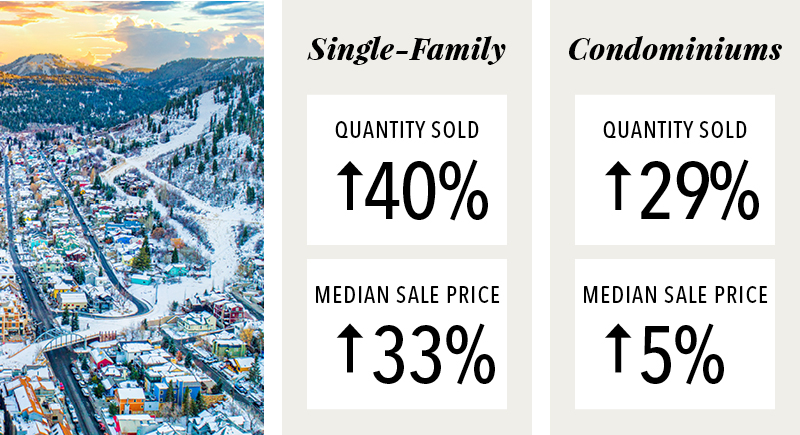 While the year finished as a record setter, the story of real estate activity along the Wasatch Back during 2020's pandemic is really a tale of two halves. Comparing the last six months of 2020 to the first six months:
TOTAL NEW LISTINGS for the first half of the year were 1,569 compared to 2,037 for the second half.
PENDING SALES accelerated at an even greater pace in the with 1,267 contracts signed in first half of 2020 compared to 2,636 in second half. The latter number is more than double the previous year's production of 1,248 for the last half of 2019.
CLOSED SALES during 2020 were 150% higher in the last six months (2,174) than the first six months (865).
AVAILABLE INVENTORY started to shrink dramatically with pendings running much higher than new listings. The year finished with just 917 residential and land units available for sale, nearly half of the previous low mark of 1,715 set in December 2017.
So how did the local market fare through the end of a pandemic-riddled 2020? Here is the take on the total year-long results reported on a rolling year-over-year basis for the period ending December 31, 2020.
. . . . . . . . . . . .
Market Overview
12 Month Rolling: Jan-Dec 2020 / Jan-Dec 2019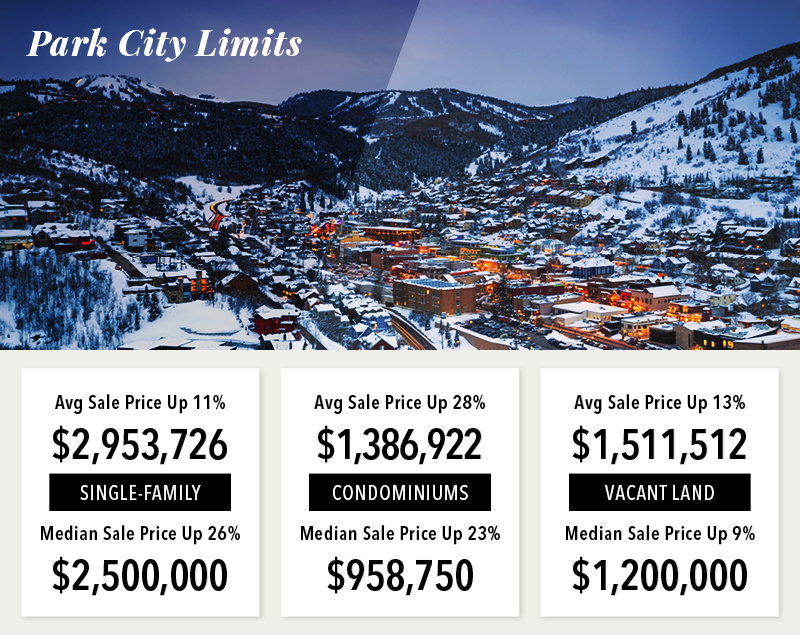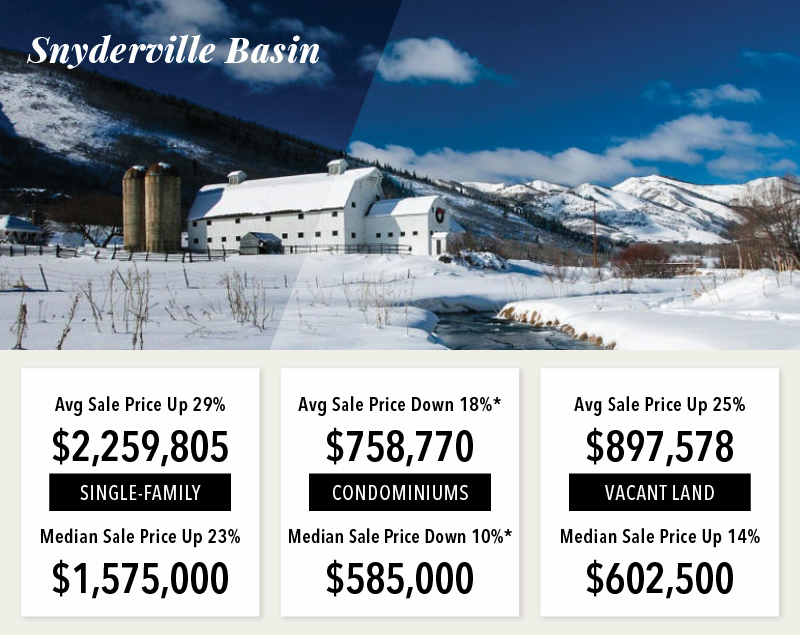 * Canyons Village saw its sales volume drop despite a 22% increase in transactions. This can largely be attributed to closings at Yotelpad with the completion of their moderately priced smaller condominiums. The robust sales of the smaller floorplans at Grand Summit contributed to the overall median sale price dropping to $585,000.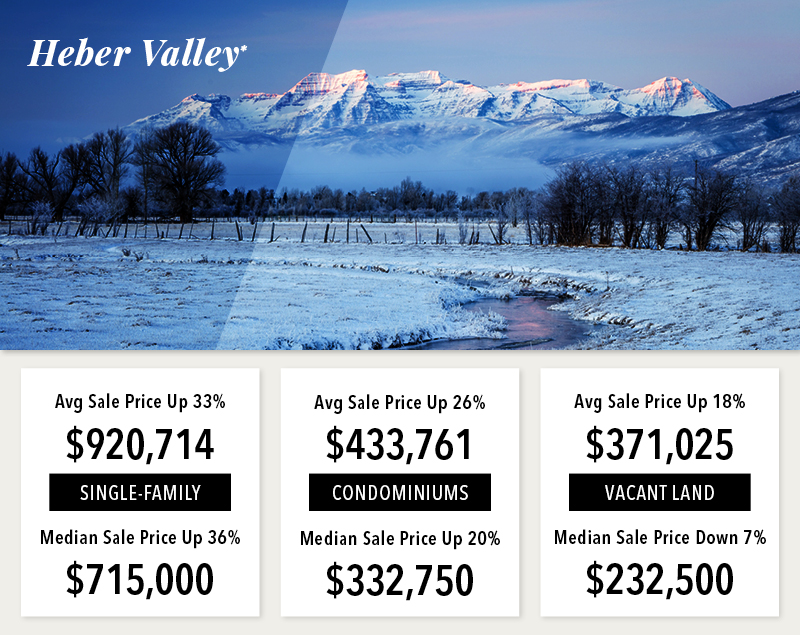 Not all sold data in the Heber Valley is included in the Park City MLS data; please call for more specific details.
. . . . . . . . . . . .
Mortgage Rates Steady & Low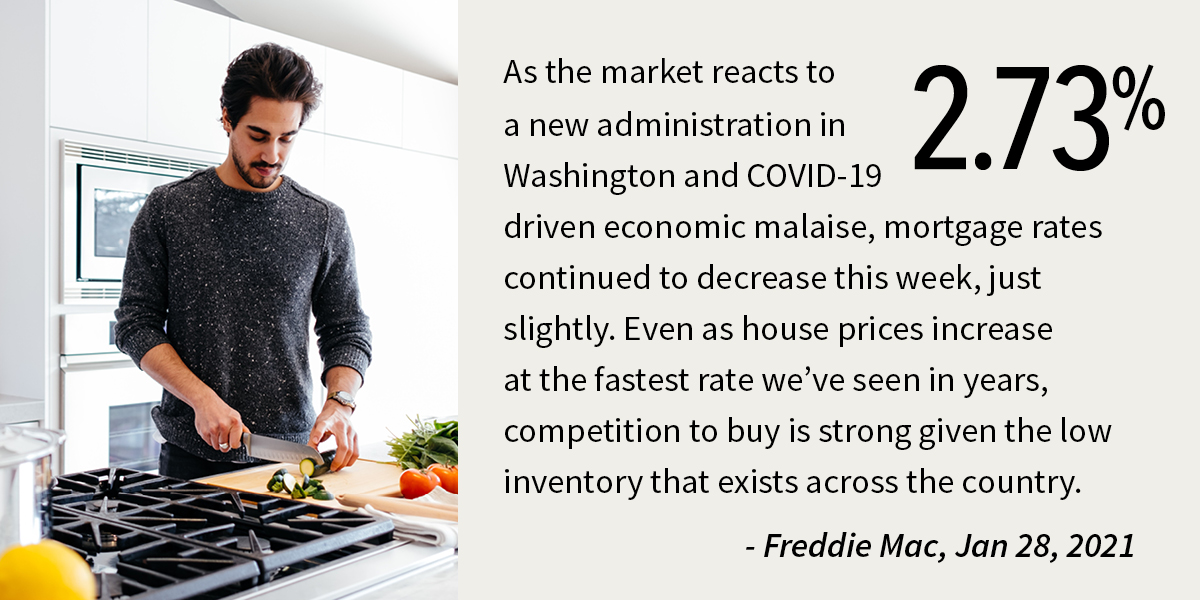 . . . . . . . . . . . .
Neighborhood Highlights
12 Month Rolling: Jan-Dec 2020 / Jan-Dec 2019
Statistics shown indicate Year-Over-Year 2020 vs 2019 unless otherwise noted.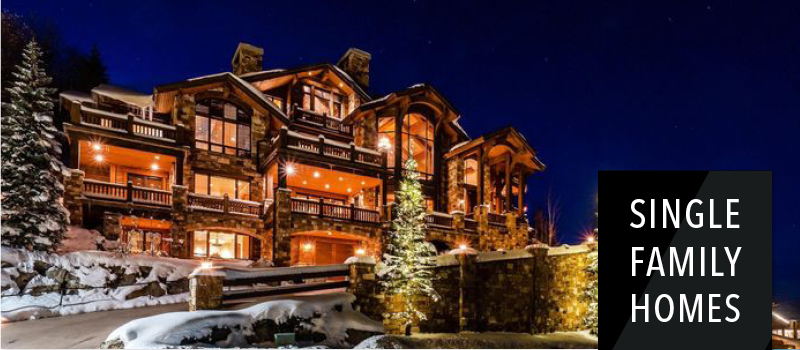 Park City Limits
Within Park City Limits, total transactions were up 64% to 301 total. Sales volume was up to $889 million, a 83% increase year-over-year. The median price of a single-family home across the city rose 26% to $2.5 million. In the ever-popular Old Town area, sales volume and the number of transactions sold both doubled, as the median price rose 11% to $2.03 million. The Park Meadows neighborhood took the blue ribbon for greatest increase in median price, rising 36% to $2.6 million.
Snyderville Basin
Snyderville residents saw a spike in sales volume (up 84%), while median price tracked equally well, up 23% to $1.57 million.
Jordanelle
Jordanelle saw vigorous activity (transactions up 71%) that pushed the sales volume to nearly double 2019. Sales totals for 2020 were $242 million, up from $123 million the prior year.
Heber + Kamas Valleys
Heber Valley saw a 28% rise in transactions, a 70% higher sales volume, and a median price that jumped 36% to $715,000.
Other Noteworthy Areas
Other neighborhoods that saw units sold or sales volume double this year were Deer Mountain, South Jordanelle, Thanes Canyon, Aerie, Old Ranch Road, Glenwild, Silver Creek Estates, Promontory, Tuhaye/Hideout, Red Ledges, and Heber East.
More detailed information for most neighborhoods can be found here: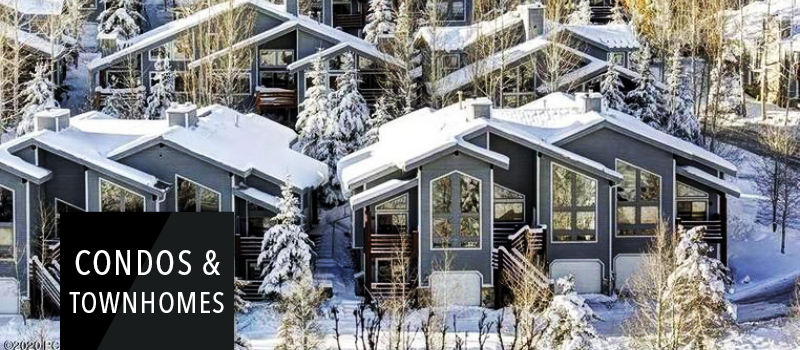 Park City Limits
The condominium market in Old Town Park City continued to be solid with transactions up slightly (15%) and a comparable gain in median price of 16% to $685,000. Empire Pass was the standout, with sales more than doubling, while the median price rose 10% to a very respectable $2.6 million. Prospector had fewer transactions but a greater sales volume as the median price popped 27% to just over $215,000.
Snyderville Basin
In the Snyderville area, Canyons Village saw its sales volume drop despite a 22% increase in transactions. This can largely be attributed to closings at Yotelpad with the completion of the building. These moderately priced smaller condominiums and robust sales of smaller floorplans at Grand Summit helped bring the median sale price down to $659,000.
Wasatch County
In Wasatch County, Jordanelle Park, Deer Mountain, Tuhaye, Hideout, and Red Ledges all saw gains of 50% or more in total transactions, with Red Ledges leading the price gain in this area, up 34% to $883,000.
More detailed information for most neighborhoods can be found here: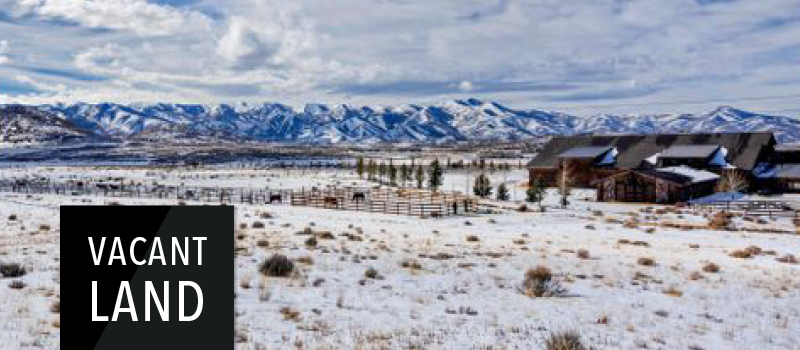 Land sales exploded in the fourth quarter as buyers who could not find an existing home to their liking elected to plan to build their own instead. Overall land sales in Summit and Wasatch counties were up over 100%. The median sales price for land region wide was up 8% to $325,000. Four of the six major regions saw transaction totals doubling the previous year. Snyderville Basin led the way with 246 lots sold with dramatic increases in sales within the gated communities of The Colony, Glenwild and Promontory, raising the Snyderville Basin median price rise to $602,000 (up 14%). Jordanelle, Park City metro, and Kamas Valley all saw a substantial increase in sales for 2020, with Jordanelle's 313 units leading the group. Only 43 lots sold within the Park City Limits, but the median price rose by 10% to almost $1.2 million.
More detailed information for most neighborhoods can be found here:
. . . . . . . . . . . .
Time On Market Relative To Price
If you are contemplating listing and selling your property, consider the balance between your pricing and absorption timelines. The data below weighs the time on market against the median price. It clearly demonstrates that those properties priced at or below the median are generally sold at a faster pace and in some neighborhoods, a significantly higher pace.
Absorption Rate: the number of months it would take to sell the currently listed properties in the market factoring in median list price.
Park City Limits
(Areas 1-9) Includes
Old Town, Thaynes Canyon, Lower Deer Valley Resort, Deer Crest, Upper Deer Valley Resort, Empire Pass, Aerie, Prospector, and Park Meadows.

ABSORPTION RATE
AT MEDIAN: 3.4 months
BELOW MEDIAN: 1.3 months
ABOVE MEDIAN: 5.5 months

ABSORPTION RATE
AT MEDIAN: 3.9 months
BELOW MEDIAN: 2.7 months
ABOVE MEDIAN: 5.0 months
SNYDERVILLE BASIN & JORDANELLE
(Areas 10-28) Includes
The Canyons, Sun Peak/Bear Hollow, Silver Springs, Old Ranch Road, Kimball, Pinebrook, Summit Park, Jeremy Ranch, Glenwild/Silver Creek, Trailside Park, Promontory, Quinn's Junction, Deer Mountain, Tuhaye/Hideout, Jordanelle, and South Jordanelle.
MEDIAN HOME PRICE
ABSORPTION RATE
AT MEDIAN: 2.2 months
BELOW MEDIAN: 1.0 months
ABOVE MEDIAN: 3.4 months
MEDIAN PRICE
ABSORPTION RATE
AT MEDIAN: 3.3 months
BELOW MEDIAN: 2.9 months
ABOVE MEDIAN: 3.7 months
Heber Valley

ABSORPTION RATE
AT MEDIAN: 4.6 months
BELOW MEDIAN: 0.7 months
ABOVE MEDIAN: 8.5 months
. . . . . . . . . . . .
Price Appreciation By State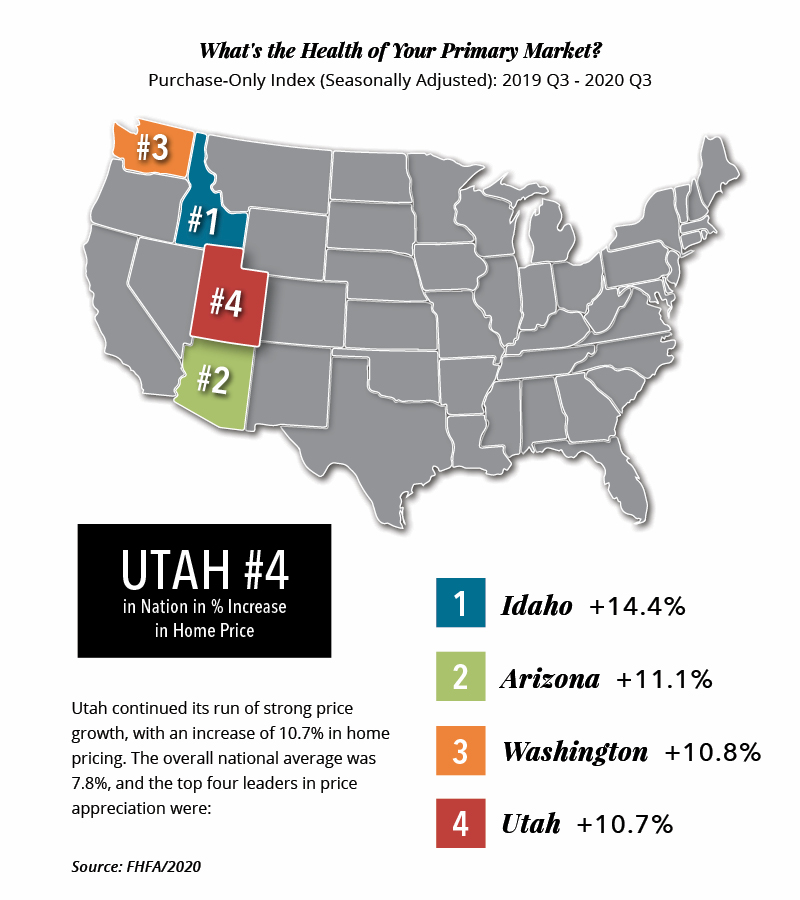 . . . . . . . . . . . .
The Season Ahead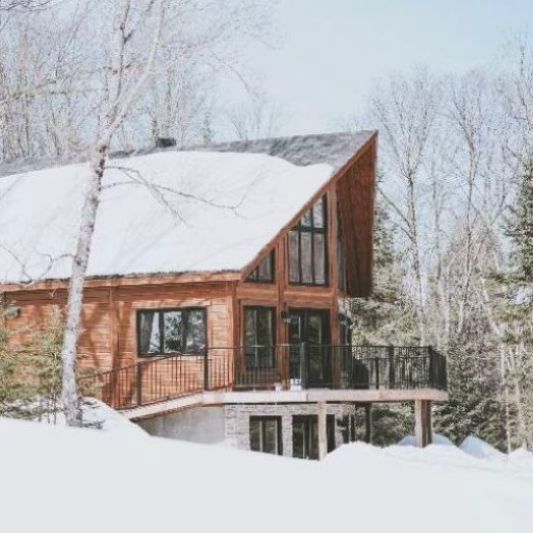 Its mid-winter here in Park City! The slopes are bustling, and restaurants are steadily filling their socially-distanced table arrangements. Lodging occupancies are down year over year, partially due to Sundance going virtual this year. However, things are looking better for the upcoming President's Weekend, and spring bookings are on the uptick due to our recent snow. All in all, our local economy and real estate market are faring much better than many places elsewhere in the country.
What Is Pushing The Market?
Mortgage rates have held at the lowest they have been in 60 years, some dropping below 3%. This has made borrowing more attractive and has dramatically increased consumers' buying power.

Some sellers are still reluctant to officially list their properties due to concerns over strangers touring their property during the pandemic, so an increase in "off market" sales has taken place. Be sure to apprise us of your property requirements, so a thorough exploration of both listed and off-market properties can be completed.

The surge in demand due to the attractiveness of our lifestyle has pushed median sale prices higher, particularly in "outlying" areas such as Heber Valley.

Renters, vacationers, and time-share owners started looking for second or even primary homes in the Wasatch Back, seeking to relocate from urban areas.
Looking Forward 3-6 Months
Here are a few observations and predictions from those with their fingers on the pulse of the market.
PRICES ARE STILL RISING: Multiple offers on many listings continue to drive up sales prices. We are setting new all-time high sales prices in some markets, with buyers driving the market.

Price increases were most pronounced in the 4th Quarter of 2020. Median price on single family homes in Park City proper are up over 50% year to year in fourth quarter alone.

WORK & LEARN FROM HOME IMPACTS: Technology advancements, work-from-home opportunities, and increased home schooling are expected to continue driving demand in more of our outlying areas. One example is that demand for vacant land in the Tuhaye/Hideout area has been off the charts, with sales nearly triple year-over-year, and prices rising 34%.
. . . . . . . . . . . .
There has likely never been a time in our market when professional representation is as vital as it is now. We are attuned to the nuances of our market and discuss it constantly at our sales meetings. We "mastermind" frequently to share insights on how to successfully represent both buyers and sellers within this competitive landscape. We also analyze the data on both a daily and weekly basis to uncover trends and opportunities, so we can advise our clients accordingly. Before you consider selling or buying, let's schedule a consultation to map out a strategy so you can enhance your opportunities for success. We can help navigate in these unprecedented times. We look forward to assisting you.