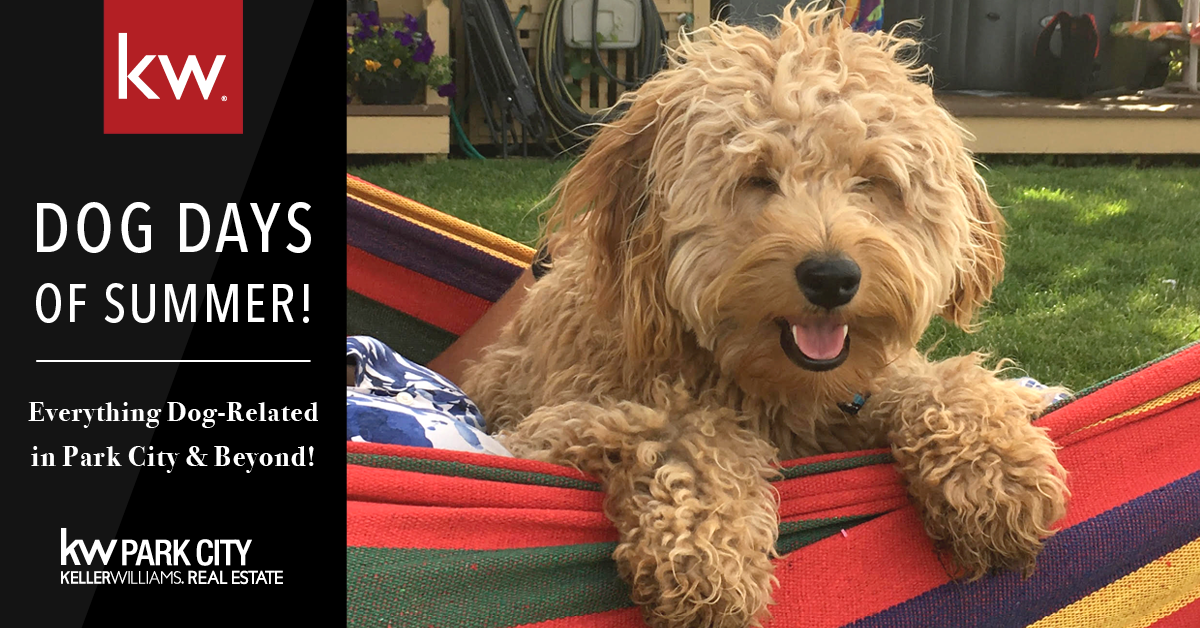 Our Wasatch Back canines don't have it too ruff! We are a community that passionately loves dogs; like their humans, our furry friends enjoy an active, fit lifestyle and considerable pampering. As the Dog Days of Summer wind down and cool mornings and evenings signal the arrival of Fall, the canine community rejoices with the change of seasons. The pavement is no longer scorching hot, yet the reservoirs are full. This newsletter covers everything dogs in the Greater Park City area – from parks to swimming holes to dog-friendly patios to grooming services, you'll find great information on how and where to have fun with your pup the remainder of summer and into the Fall!
Dog Friendly Restaurants in Park City
There are many great dog-friendly patios in Park City where you can dine outside with your 4-legged best friend beside you.
COLLIE'S SPORTS BAR & GRILL

Located on the lower stretch of Park City's Historic Main Street by the Town Lift is Collie's Sports Bar & Grill. They offer casual fare in a pub setting. It's family friendly, and dogs are welcome on the shaded patio. When your furry pal is at home, this is also a great place to watch the game.
SILVER STAR CAFE

Silver Star Cafe, at the base of Park City Resort, offers one of the most expansive, scenic and dog-friendly patios in town, ideal for meeting up for lunch before or after a hike on the nearby Armstrong or Dawns Trails. Tucked within the Silver Star condominium development on the west edge of Park City Municipal Golf Course, the Café offers an intimate, upscale rustic vibe with award-winning Roots Cuisine. Lunch is offered Monday – Friday, brunch Saturday and Sunday, and dinner nightly, with live music on the weekends. Dogs are welcome on the patio, and water bowls are provided!
WINDY RIDGE

Windy Ridge is part of the Bill White Restaurant collection and offers a lovely patio in an "off the beaten path" location loved by locals on Ironhorse Drive, right off Bonanza Drive. The food is delicious whether you and 'Fido' are dropping in for a quick lunch, enjoying a relaxing dinner, or picking up a to-go order. Dogs are welcome on the patio.
SUSHI BLUE

Sushi Blue, another member of the Bill White Restaurant group, is located on the southeast side of the Redstone shopping area. They offer a variety of unique menu selections from fresh sushi to Kobe Beef Hot Dogs and Korean Street Tacos. Dogs are welcome on the patio.
HUGO COFFEE SHOP

Located in the Park City Chamber Visitor Center in Kimball Junction, Hugo Coffee Shop is a very dog-friendly spot to enjoy a small-batch roasted coffee. Dog owners craving a latte can head to one of Hugo's outdoor tables overlooking Olympic Park to sip alongside their canine companion. Business owner Claudia McMullin is a passionate dog lover and supporter of local rescue organizations and as such, offers all kinds of treats for your canine pals. Their slogan is "Coffee with a Paws" which is so apropos! Give Hugo a nice big scratch behind his ears!
Dog Parks in Park City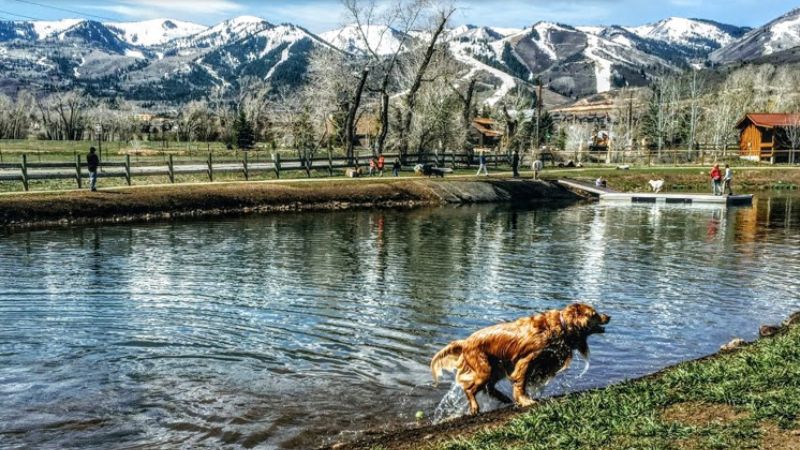 Willow Creek Park (4460 Split Rail Lane) is an enclosed 2.4-acre fenced area with a large dog-friendly pond which features both a zero-entry point and a floating dock for dogs to jump from if they are tempted. There is a 1/3-mile soft surface trail inside the dog park with a 1/2 acre area of "fetch" space. The park also features an agility course for your furry best friends to work on their skills. For the dog owners, there are three small shade shelters to enjoy while keeping an eye on your dog.

Library Park (1255 Park Ave and 13th St.) This big, open field on the north side of the Park City Library and Jim Santy Auditorium is a neighborhood gem that is perfect for dog who love to fetch. Throughout the day, you'll find dogs of all breeds chasing sticks and balls or chilling in the shade while their owners visit with other humans.

Trailside Park (5715 Trailside Drive) includes a park area specific to small dogs as well as a large all-size dog area. Both have sodded and natural surfaces for the pups to run and play, with benches and shade shelters for the humans. In Trailside Park, there is also a 1-mile off-leash trail where your dog can run free, just look for the signs of where you must have them leashed.

Run-A-Muk Trail Area (Utah Olympic Parkway) includes approximately 2 miles of trail to wander with your dog or 43-acres to let them run free. Dog Park hours are dawn to dusk, and restroom facilities are available on site within the parks. Please make sure that your dog is leashed until in the dog park. There are Mutt-Mitt stations throughout the dog parks and at the Run-A-Muk trailside, so please pick up after your pet. There is no poop fairy!

Round Valley is a 1,500 acre playground boasting 30 miles of trails best accessed at Quinn's Junction trailhead (84098 Gilmor Way) offering both on and off-leash areas. There is also decent parking on the Park Meadow's side off the northern tip of Meadows Drive and a small parking area at the Old Ranch Road access point, 1/4 mile north of the 4600 intersection. Please consult the large maps at the trail heads.

The Woods at Parley's Lane (4275 Sunrise Drive) is the area's newest addition of off-leash parks. It is a smaller park with plenty of room for your dog to play off leash.
For more information on dog friendly tips like swimming holes, local campgrounds, hiking trails, etc. please see our newsletter.