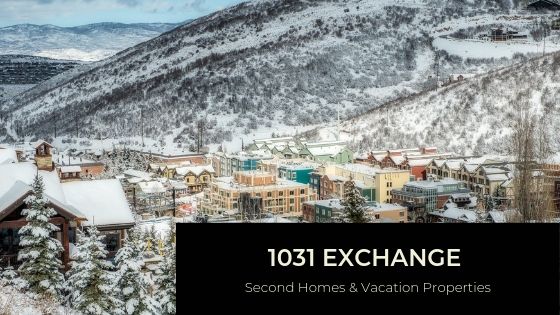 This is a guest post from Mike Weinstein at inside1031.com
1031 Exchange on Second Homes
The 1031 exchange is arguably the most powerful tool at the disposal of real estate investors today. For those not familiar with the 1031 exchange, it allows you to defer taxes on the sale of a property. If you roll the gains into a "like-kind" property within 180 days, you avoid giving the government your profits.
Here are some common questions we hear regarding second homes.
"Can you do a 1031 exchange on your second home?"
"I rarely use my vacation home, and just rent it out. Is it eligible for a 1031 exchange?"
"My brother has been living in the property for the past 6 months. Can I still sell it and defer taxes?"
If you've had similar questions, this article is for you. First, we'll walk through a quick refresher of the 1031 exchange. After, we'll cover vacation home eligibility in detail. Then, we'll finish with some ideas for finding "like-kind" property to complete your exchange.
1031 Exchange: The Basics
At its most basic level, a 1031 exchange allows you to sell an existing rental or business property and reinvest the proceeds into a "like-kind" property. As long as you meet the timelines, you can defer paying taxes on your gains.
The term like-kind can cause some confusion. Like-kind means that the property you buy is also a rental or business property. A common misconception is that you must exchange a duplex for another duplex, or a warehouse for another warehouse. This is not the case! "Like-kind" should really be called "like-category," but that's what the IRS calls it.
There are strict timeline requirements for the 1031 exchange. You must "identify" potential replacement properties within 45 days. After they're identified, you must close on one of them within 180 days. We could write an entire article related to this subject, but that's the simple version.
The last major point for 1031 exchanges relates to "boot." Boot occurs when you have leftover funds from your sale that were not used in the replacement property purchase. To avoid boot, you must reinvest all sale proceeds into the new property. For more information, view our article on 1031 Exchange: The Basics.
Is my vacation home eligible for the 1031 exchange?
While it is true the 1031 exchange cannot be done on your primary residence, vacation homes are trickier. Here are the requirements for 1031 exchange on vacation homes:
You have owned the property for at least 24 months

The property has been rented to other people for at least 14 days each year for the past two years

You have not used the property for personal use more than 14 days each year for the past two years. OR, you've used the property less than 10% of the number of days it was rented to other people each year over the past two years
Especially in a market like Park City, many vacation homes may qualify for the 1031 exchange. With the advent of AirBNB and VRBO, houses can be rented out up to 300 days/year. Unless you live nearby or spend entire seasons at Park City, you may qualify for the 1031 exchange. This can be especially appealing for folks who don't use their second home as much as they thought they would.
You may be wondering: Can I turn a vacation home into a rental property? The answer is YES (but it may depend on other factors like whether your HOA allows it, etc). Your intent when you bought the home is irrelevant in the eyes of the IRS. They only care about how the property was used when it was sold.
How to Turn Vacation Home into Rental Property
For homeowners who want to reinvest cash from a vacation home into another rental, the first step is to rent the property more often. Second, you may want to begin documenting the rental income for tax purposes. The more proof you have that the property truly was used for investment, the less likely you are to run into IRS issues. Last, you will unfortunately have to start using the property less. While this can be a drag, if planned correctly it can be easy.
It may be wise to list your property for an entire winter or summer. This way, you can claim more "rental days" even when the tenant isn't there. Compared to AirBNB or VRBO, you'll likely have less wear-and-tear on the property. Remember, the more you rent the property, the more you can stay there! If you rent the property for 250 days, you increase the number of personal use days from 14 to 25.
Personal Use for Vacation Home 1031 Exchange
Another question that arises is "What is considered personal use of the property?" Many people assume they can rent the vacation home to a family member for cheap. While it could fool the IRS, we do not recommend this method. The IRS has explained that regardless of who rents the property, it must be for a fair-market value. So if you have a family member living in the property for cheap, it counts as personal use. Similarly, if a family member "rents" it from you for cheap for a family retreat, it's still personal use.
Other scenarios for 1031 exchange on second home
While the requirements from the IRS are fairly straightforward, there are other ways properties can qualify. The requirements above are considered "safe-harbor" guidelines, but do not cover all situations. Even if you've used the property 100 days last year, there could be other ways to qualify. We recommend investors reach out to a tax or legal professional for advice on their scenario. Qualified intermediaries help execute exchanges but cannot provide legal or tax advice.
Finding Replacement Properties
Once you've decided your property is eligible for the 1031, the question of finding replacement properties will be top of mind. Due to the time requirements, it's critical to have an idea of the type of replacement property you're looking for. For example, will you want to buy another vacation home or a more traditional rental property? Would a Delaware Statutory Trust property help eliminate maintenance and other headaches? The replacement properties you can use are similar to a traditional 1031. If you do want to buy another vacation home, here are the requirements:
You will own the property for at least 24 months after the 1031 exchange

The property will be rented to other people for at least 14 days each year for the next two years

You cannot use the property for personal use more than 14 days each year for the next two years. OR, you can use the property less than 10% of the number of days it's rented to other people each year over the next two years
Conclusion
The 1031 exchange can be a powerful tool for traditional rental properties or vacation homes. Even if your second home doesn't qualify today, there are steps you can take to qualify. If you own a property but don't use it enough, you could both save on taxes and find a new investment. While the 1031 exchange is usually thought of as a mundane part of the tax code, using it for a vacation home in Park City is much more exciting!
Disclaimer: Before entering into a 1031 exchange, consult your tax advisor.